Meet the Coastal Accents & Design Team who are here to help you find the perfect piece of furniture for your space, add a statement accent piece to your room, put together a beautiful gift for a special person in your life or work with you from start to finish to give your home the design you desire.

Emily Sheipe
Coastal Accents & Design Owner and Principal Interior Designer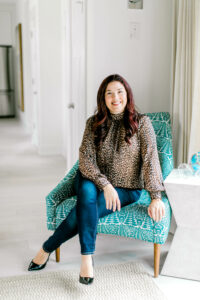 In 2005, Emily started building what would become a successful interior design firm serving clients in cities throughout Virginia and Northeastern North Carolina. Wanting to continue to grow and expand, she purchased Coastal Accents in February 2018 and expanded it to include furniture, home accessories, gifts and interior design services to clients of all ranges.
At the store or in a client's home, Emily is able to create spaces for those looking for comfortable living, high-end entertaining, end of the day relaxing and much more. Each piece of furniture, accessory or gift is centered on the idea of achieving the right sense of balance, personal style and functionality of daily living.
Emily graduated from the Fine Arts Interior Design Program at Virginia Commonwealth University and now resides in Chesapeake, Virginia with her husband, three children, and their Goldendoodle, Hattie. The Outer Banks holds a special place in her heart as it is where vacations and quick getaways are spent.
Email Emily : [email protected]
Jenn Grubbs
Store Manager
Email Jenn: [email protected]
Alexis Banks
Junior Designer
Email Alexis: [email protected]
Charles Condlin
Warehouse Manager
Email Charles: [email protected]
Ashlyn Meek
Sales Associate
Email Ashlyn: [email protected]